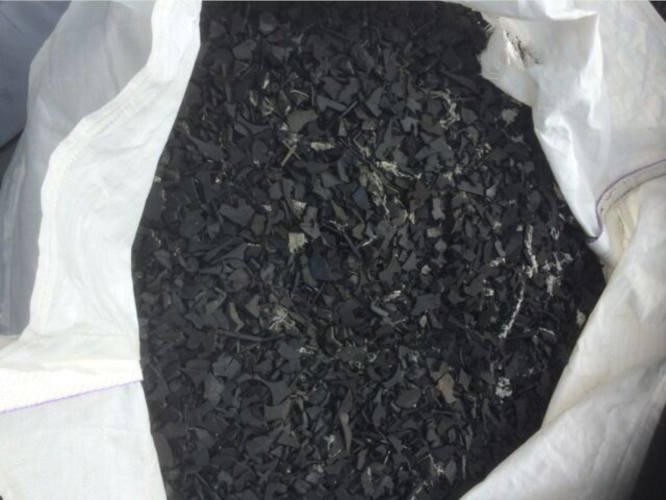 What happens to them?
Since 2018 Velorim, together with eight universities, have been researching dozens of recycling methods to find the most appropriate and sustainable for bicycle tyres and inner tubes.
Bicycle tyres, containing both high-tensile steel and fibre reinforcement are particularly complex to break down which means we have had to invest in bespoke separation technology, which we believe is the only dedicated bicycle tyre shredding facility in the world. Inner tubes are a lot easier to reprocess.
Inevitably we have a lot of options for recycling the collected waste. Whilst some generate a revenue these only consume small quantities whereas the majority is reprocessed at a cost. This is where much of the recycling levy is spent. There follows a summary of the options we are actively pursuing:
A premium surface for equestrian menage known as VeloTrakTM with a lower likelihood of metal contamination than menage made from scrap car tyres.
A nonslip, antistatic, hardwearing flooring tile known as VeloMatTM ideal for workshop or showroom floors.
Hard wearing and environmentally sympathetic cycle and foot paths known as VeloPathTM able to be installed anywhere in the UK.
We supply material that is made into gorgeous fashion products, including VeloBeltsTM, through our partnership with a leading UK fashion house. At the other end of the spectrum, we supply a charity that turns them into products in Africa.
A rubber-based contact adhesive known as VeloBondTM.
Some material is converted into energy in a licensed WfE plant.
A bespoke devulcanisation process is used to produce VelobutyleneTM, a replacement for virgin rubber, which is then used to make new products.
Some rubber is reground and used as a filler in new products.
A pyrolysis process is used to turn some material into carbon black and oil, important feedstocks in rubber manufacturing.
All high-tensile steel wire is recovered to be made into new products.
We ask our customers to separate the brass inner-tube valves and then donate or sell them as they see fit.
Any or all of these are being used, but what we won't do is governed by our double zero commitment:
Zero Dumped in Landfill
We believe that too much material is mindlessly discarded into landfill across the world. The cycle trade has historically used this as the main end-of-life for its rubber products. We consider it our mission to bring this to an end.
Zero Dumped Overseas
Moving waste into the developing world, just to pretend that it isn't our problem cannot be right, especially for rubber products. We know that automotive tyres are routinely shipped there to be used as cheap fuel often releasing toxic fumes as they are burned. We will have no part in this trade.
Velorim, making cycling green